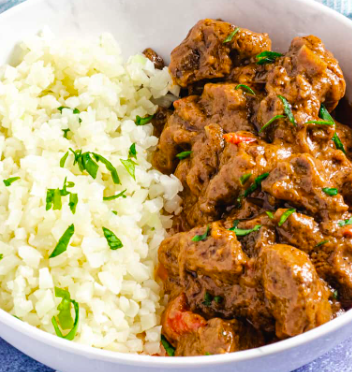 Inspired by various West African peanut stew recipes. A gluten-free, keto, dairy-free one pot dinner that's sure to please the whole family.
**Hyperlinks to purchase ingredients for this recipe are included in the ingredient list. Please note that based on seasonal availability some items may not be available but can be substituted as desired.
Prep Time

10 min

Cook Time

25 min

Total Time

35 min

Yield

3 Servings
Cuisine

Course

Suitable for Diet
Directions
1
1. Wash beef and cut into smaller pieces.
2. Pour olive oil into a pan on medium heat.
3. Add beef, 1/2 tsp of black pepper, and a pinch of salt, and saute for 8-10 minutes.
4. Chop the onions and bell pepper. Add onions and red bell pepper and saute for 3
minutes.
5. Add tomato paste and stir. Let cook for about 5 minutes.
6. Start the Cauliflower rice: Trim the cauliflower florets, cutting away as much stem as
possible. In 3 batches, break up the florets into a food processor and pulse until the
mixture resembles couscous.
7. Heat 2 Tbsp Olive Oil in a large skillet over medium heat. Add the cauliflower, and stir to
combine. Add 1 teaspoon salt, and continue to cook, stirring frequently, until the
cauliflower has softened, 3 to 5 minutes. Remove from the heat.
8. Meanwhile for the stew add the 2 cups of broth from the Beef Bouillon cubes cayenne
pepper and salt to taste. Bring to a boil and cook for 5 minutes.
9. Add peanut butter and stir till it is dissolved. Add additional water, stock if the stew is too
thick.
10. Let it cook till it thickens, roughly 2-5 minutes.
11. Serve with cauliflower rice and enjoy!