Since I was a child, and before kale tried to take its place, spinach was known as the super green vegetable, eaten by Popeye, admired by moms, and hated by kids! Thirty years ago, fresh spinach was not often found in my house. It would only seldom show up in a cardboard box, frozen and then later, turned into a dip, and customarily put inside a large pumpernickel loaf.
More recently, fresh spinach has made its way into our daily lives. Several years ago, I attended a conference where two of the guest speakers were the founders of Earthbound Farms. They shared their incredible story of starting their farm in California with absolutely no farming experience. Their sole reason for their commitment to grow organic foods stemmed from their dislike for the smell of chemical fertilizers, followed by a need to make money. Soon after in 1984, they started selling pre-washed bagged organic salads.
Their initiative marked the beginning of a major shift in how we eat salads and greens in all of North America. Until then, salad in Canada was either made of romaine or head lettuce. It was certainly not the mix of baby lettuces and greens that we have come to consider the norm today.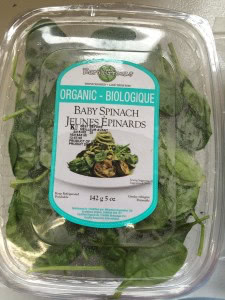 As we now know, adding a salad to our daily diet is healthy because leafy greens provide key minerals and nutrients for our bodies. However, in order to have access to those beautiful baby leafy greens, they have to travel very far to reach our forks. In addition, these greens are being pre-washed not once, but three times, in a state that has had droughts for the past four years.
There is a closer solution to home. We are happy to introduce Bluegrass Farm of Jasper, Ontario. They are a leading farming innovation that farms greens all year round right here in Canada. In our most recent food boxes, the beautiful bags of spinach, dated November 17, have been grown in their greenhouses. While the California greens are travelling 4,600 km to make it to your plate, Bluegrass' are a mere 90 km. Their greenhouses are run all winter long, and lucky for us, will now provide the Ottawa market with local greens close to home.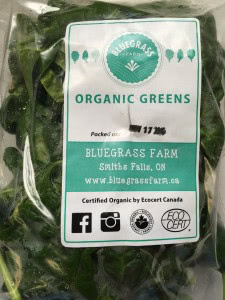 Since the time between the harvest of the spinach and your fork is much less, the greens that you receive from Bluegrass actually maintain a higher nutritional value for you and your family. Furthermore, the convenience is the same, made ready to use.
And this wouldn't be complete without adding the benefit of the economic impact of buying from a local business that buys from a local farm. Local jobs are created, money circulates in our economy, and it supports the well-being of our community.
We are so grateful to Bluegrass for their bold and innovative move, and we are absolutely thrilled to be offering their local organic produce in our food boxes this winter.