We know how important local produce is important to you – it is for us too! That's why we exist. When we made the transition to our new online ordering system last year, we lost the ability to show an items origin in our produce boxes. (On the produce listing we will always name where something comes from but in the boxes that doesn't appear). This is a system limitation not a personal choice, we definitely want you to know where your food is coming from.
To solve this we have added some icons to the produce so you can identify local and regional produce.
Local Produce
You will now find that all local produce (within 100 km of Ottawa) has this icon in the top right of the image. We have also created a Local produce section in the Buy More Produce section of the store.
This image has been made by Flaticon.
Here's an example of the icon on the local Microgreens from Carly at Covenant Springs. Look for this icon on all local produce in store.

Ontario/Quebec Produce
At goodfood2u we think it's important to distinguish between local produce (within 100 km) and regional produce (Ontario and Quebec) We have created a Buy More Ontario and Quebec produce section of the store and are adding this icon to the image of all Ontario and Quebec produce.
Here's an example of the identification of Ontario/Quebec produce on the store.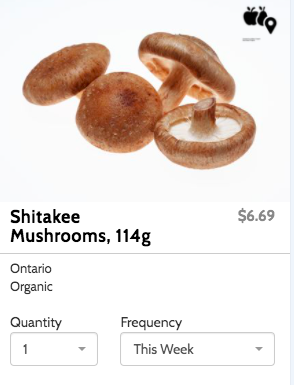 We hope this provides you with the additional information you need to make purchasing decisions. As always, if you don't want to order a box, you can also order a la carte from the Buy More Produce section of the store, and here you can choose the Local and Ontario/Quebec options. Thanks for supporting local growers and the local food economy!