Like you may have seen or heard in January Second Harvest, the largest food rescue organization in Canada and global thought leader on food recovery, released a report on the state of Food Loss and Waste (FLW) in Canada. And the results are pretty stunning: 58% of all the food produced is lost or wasted; 32% of this lost and wasted food could be rescued to support communities across Canada. Every year, 56.5 M M tonnes of CO2 equivalent emissions are created by food waste in Canada. A food crisis indeed, as the authors call it.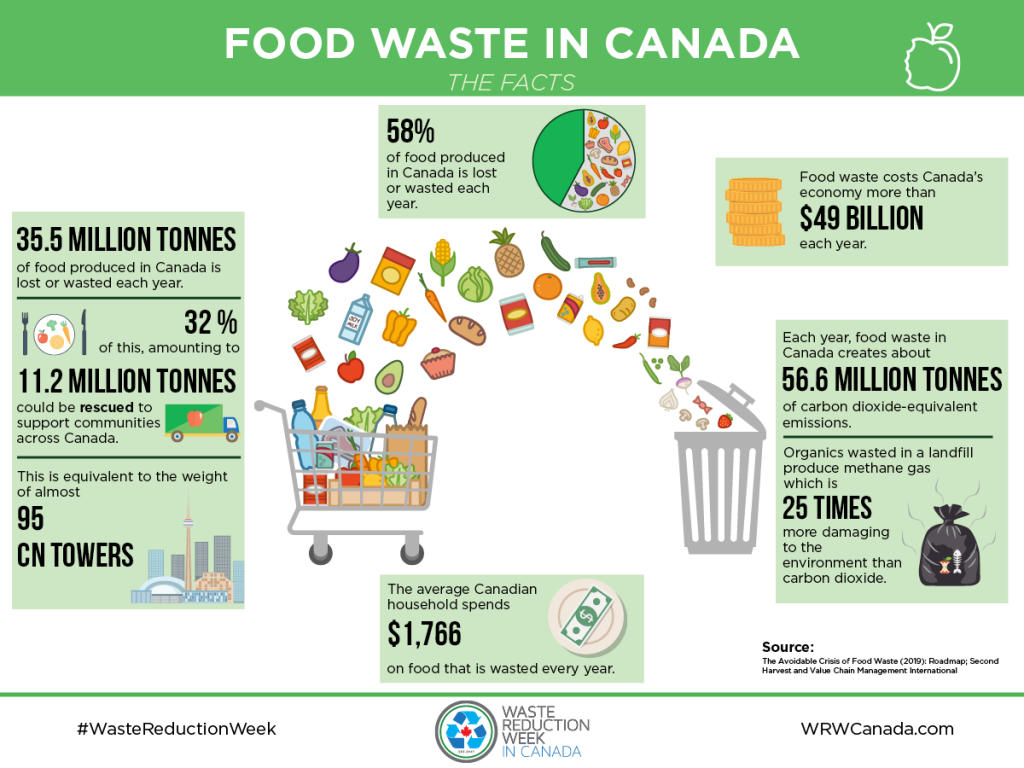 Those numbers prompted us to reflect about our contribution to this problem, and the areas in which we can improve. At goodfood2u we are mindful of the waste we can potentially create every week of the year we purchase organic produce to deliver to our customers. We say "potentially" because most of is avoidable and we have tools in place to minimize our share of the waste.
We are not a typical retailer that has a physical store where consumers can do their groceries. That means we don't try to guess what our customers will buy on a given week, then stock up and cross our fingers we will sell it all. Typical retailers do have data to rely upon and don't completely guess, but it does remain a guessing game to some extent. They can't be right all the time.
We are built differently, and in an improved way to reduce FLW. Here's what we have at our disposal to control our FLW:
Box customization
Ordering deadline and real-time totals
Topping up boxes
"Use quickly" messages
Household use
Chicken food
Box customization
Our customers have until Tuesday at noon to place an order and customize it if they
want to. Customization is an important tool to reduce FLW. You can select a Custom box we offer, then take out the produce you won't eat or don't plan to and substitute them for ones you know you will use. That way our customers know what they will receive and can plan for it. So that's one design feature of our service that reduces FLW.

2. Ordering deadline and real-time totals
A second one is the Tuesday deadline feature: our customers have until Tuesday at noon to order for that week. When the deadline passes, we simply add the total we need for each fruit and vegetable and order them. We know exactly what we'll need for the week and order accordingly. That's real-time totals.
But produce comes in cases of a specific amount or weight so it leaves room for potential waste. Let's say we need 90 lb of Quebec apples for the week. Well, the apples are sold in boxes of 35 lb. Ordering 2 boxes isn't enough, and 3 is too much. What do we do? We order 3 boxes and have a strategy to use the surplus. Or we need 60 bunches of kale, and they come in boxes of 24. We need to order 3 boxes and have surplus also in that case. Often the numbers match pretty well, and we don't have surplus. But when we have surplus, what do we do? More on that just below.
3. Topping up boxes
Since some of our customers can indicate preferences such as "Never Send" (meaning they never want to receive a specific fruit or vegetable and we will not send it to them) and don't customize their box, that leaves it undervalued. Feeding two birds with one scone, we fill the box value of those customer with the surplus produce we have from ordering in cases.

4. "Use quickly" messages
A fourth feature is the fact we send messages to our customers when a fruit or a veggie needs to be used quickly. We carefully check the produce we receive and identify those that need more love than others. And it's not every week this happens, and when it does it's almost always just one fruit or one veggie. A green leaf one usually. And when we see one, we send a short message before we head out on deliveries to advise our customers to use that item quickly. It reduces FLW.
5. Household use
We are parents of four children aged 5 to 14. We cook from scratch. We hardly eat out or order in. We spend a ridiculous amount of time in our kitchen.
You'll guess that we go through a plethora of produce at home. And remember the surplus we have from ordering in cases and large bags? It feeds us. No wastage there.
6. Chicken food
With all of the above tools we have at our disposal to reduce FLW we are still left with some unusable produce. There are always a few apples per case or a pound or two of potatoes in bag that aren't fit for human consumption. The leafy greens are also tricky. Mouldy berries. You get the point.
We don't actually throw out that food. We accumulate it during the week and put it in a box and leave it outside once a week at the end of the day. A man swings by a couple of hours later, picks the box up an brings it home. There he feeds the food to his flock of hens. Garry and Pat live just outside Ottawa and sell eggs off their farm.
At the end of the week, we've wasted very little of the produce we receive at our warehouse. We've been able to do it because reducing FLW is important to us and we've consciously implemented tools to achieve this. We live and work in this community and it's important to us to take care of it and all of us in the process.