About Credits and Invoices:
We are always so happy to bring you amazing quality organic produce and groceries, it is our number one priority. The reason we can deliver such fresh food is because we order for your delivery. We do not inventory produce. We run a just in time produce delivery. This is great, because it means you get the freshest possible produce. However, the downside is that there are times when produce we ordered for your boxes arrives in terrible condition, and we simply cannot send it out. There are also times when our suppliers short us completely and we don't get the items we were expecting for your order. These things aren't planned for and often take place the day of delivery at the warehouse.
If we happen to get produce into the warehouse that isn't up to our quality standards or we don't happen to receive a produce from a supplier, we will write CR on your invoice, this means CREDIT.
When you see CR, you can expect to see the credited amount in your account within 3-5 business days . You can check your credits and invoice by logging into your goodfood2u account.
Select MY ACCOUNT in the top right corner.Select DELIVERY HISTORY, here you will see all your past deliveries and invoices.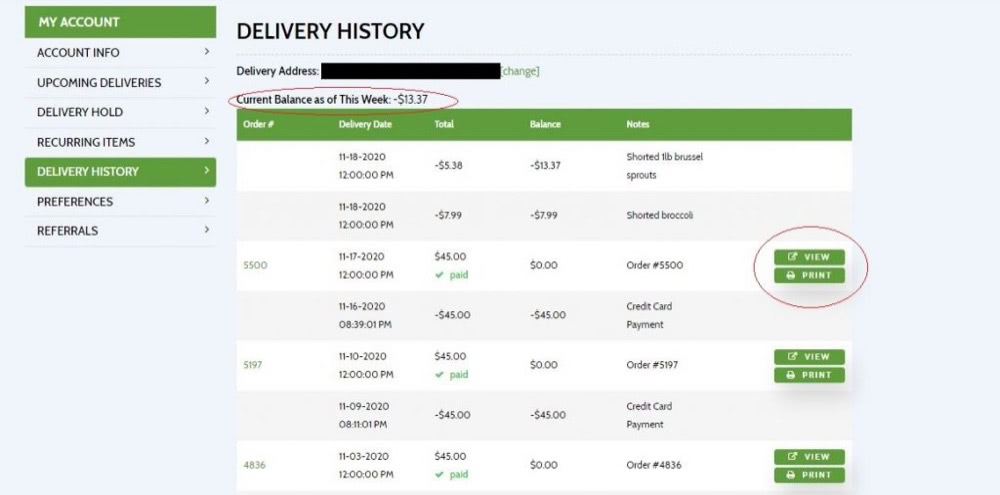 PLEASE NOTE: Currently credits and payments will not show up on the invoice emailed to you after your delivery each week due to a software limitation that we are working on improving. The best way to know your account balance is to login to your account.
We do our best to ensure you always get the quality of products you pay for. If we do happen to miss something in your box, or we didn't write CR, feel free to reach out to us at hello@goodfood2u.ca and we will be happy to help!